Classes and Workshops
_________________________________________________
Workshop dates (click on a venue):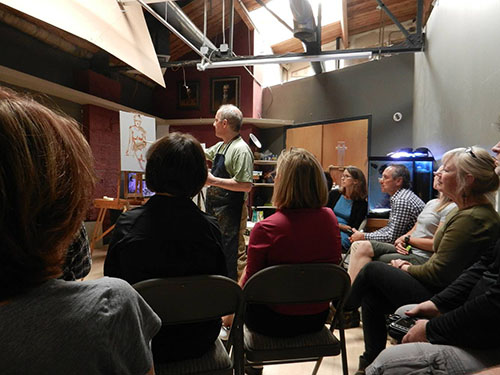 2018

Nicole's Studio, Raleigh, NC Jan 24-26, 2018

Wausau Museum of Contemporary Art, Wausau, WI Feb, 5-8, 2018

Debkart Home Studios, Ashburn, VA March 8-11, 2018

Franciscan Life Process Center, Lowell, MI, April 12-15, 2018

Coppinni Academy, San Antonio, TX, May 18-20, 2018

Rome Art Workshops, Rome, Italy, July 9-20 2018

Bascom Arts Center, Highlands, NC Aug 29-31, 2018

Madeline Island School of the Arts, La Pointe, WI, Sept 17-21, 2018

Huntsville Museum of Art, Huntsville, AL, Oct 18-21, 2018

Scottsdale Artists School, Scottsdale, AZ, Oct 29-Nov 2, 2018
Materials:
-Brushes: filberts, flats of varying sizes. Avoid brights and soft synthetic brushes.
For synthetic, stiff fibers are better ( Rosemary Ivory, Silver Bristlon are good examples)
NOTE: Bring at least 2 brushes which are ¾" and 1" wide
-Medium: linseed oil, but not cold pressed. (no stand oil)
-Odorless paint thinner for rinsing/cleaning brushes
-Rags or paper towels
-Rigid Palette no smaller than 11 x 14 in size
-Neutrally toned canvases or panels:
use Dick Blick matte acrylic "warm gray"
size range: 14 x 18 to 16 x 20 inches.
bring one canvas/panel for each day of class
Note: canvas/panel must be dry before class

-Paint cups or old cans
NOTE: Bring jars or cans for your thinner at least 3" in diameter
-Jar with lid for used paint thinner.
Oil colors:
I recommend Gamblin Oil Colors
Titanium white
Cadmium red or equivalent
Cadmium orange or equivalent
Burnt sienna
Yellow ochre
Alizarin Crimson
Ultramarine blue
Dioxazine Purple
Cadmium yellow or equivalent
Viridian green
Olive green
Raw umber
Student feedback
Seldom do you find a brilliant artist whose abilities as a teacher measure up to their talents as a painter. David is one such person.
Fred Jones
Enjoyed your workshop. You are an excellent instructor, very knowledgeable and well organized. I hope to use what I learned to "loosen" up my work and improve my technique in oil painting.
Toni Fiderio
I believe I'm a better painter after taking David's workshop. For me the best part of a workshop should be the demos. David did great demos then set us loose to give it a try. In a 3-day workshop I basically went home with 4 paintings which was exciting since I'm normally a slow painter. I'm not a portrait painter so I was very happy David demos both still life and portraits. Friends have commented they think my painting has gone to another level. I gained a confidence to paint looser and with larger brushes. I would take David's workshop again and highly recommend his workshop to intermediate & advance painters.
Lydia Jechorek
I consider David Shevlino to be a modern master of wet on wet painting. I chose to study with David at both the Scottsdale Artists School and the Sedona Arts Center because I wanted to further my painting skills in oil. I highly recommend David's classes. They are not to be missed. He teaches technique during his demos, and he shows concern for each student as we paint on our own. He is very generous with his time.
Susi Hassert, BFA, Pratt Institute
I was recently lucky enough to spend a day with David Shevelino painting at his workshop and learning from the opportunity to watch his free flowing painting style. It was a fabulous experience and David's influence truly brought forth one of my better paintings!
Janine Wade